Concrete Floor Colors & Ideas
CONCRETE FLOOR COLORS AND IDEAS
Use these resources to see the variety of colors available for your concrete floor. Many manufacturers offer a variety of coloring products, and can also create custom colors. ConcreteNetwork.com offers a complete list of manufacturers that offer concrete coloring products.
Popular Colors for Concrete Floors
Video: How to Color Match Concrete Floors to Your Decor
Length: 1:36
With concrete floors, you don't have to settle for an off-the-shelf color. Most contractors can custom color a floor to complement your decor, whether you want to match a wall treatment, fabric pattern or artwork.
The hardest decision you'll make when choosing a decorative finish for a concrete floor is what color scheme to use. Even though there are endless options to choose from, certain colors seem to rank as favorites, based on the viewer traffic received in the photo gallery of concrete floors. Below are examples of some of the color schemes that are attracting the most interest. But don't let this unscientific popularity poll stop you from daring to be different. Choose the floor color that suits your fancy, complements your interior design, and makes you happy.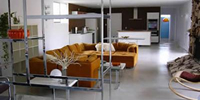 Gorgeous grays

Many people prefer to enhance the natural beauty and character of concrete and keep it gray. Shades can range from light neutrals to dark charcoals, making this chameleon-like color suitable for many interior design schemes.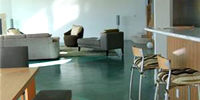 Bold blues

A lot of concrete floor owners like to sing the blues, using this vibrant hue to make design statements ranging from calm and soothing to bright and bold. One reason why this color may be so popular is that it's not widely available in other types of flooring materials, and with concrete, the variations of blue are unlimited.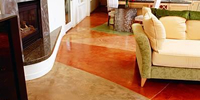 Color combos

The most stunning concrete floors use a kaleidoscope of colors to become the focal point of the room. These showpiece floors are ideal for those who want to express their personal tastes and be distinctive. The various fields of color can be defined by saw cuts, stencils engraved patterns and other techniques to create one-of-a-kind colored concrete floors.