Concrete Overlays and Toppings
COVERING AND FIXING EXISTING CONCRETE FOR A NEW, FRESH LOOK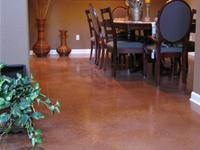 The Concrete Colorist
Decorative overlays and microtopppings are ideal for masking flaws in existing concrete floors, such as stains and hairline cracks, allowing you to start with a clean canvas.
In addition to going over concrete, overlays can be placed over other sound floor surfaces such as wood, vinyl tile and linoleum (with proper surface preparation and reinforcement).
An overlay is an option to cover up minor flaws, but it shouldn't be placed over major cracks that are structural in nature or concrete with severe spalling. Thicker-build overlays can cover up minor dips in a floor and go up to the bottom of baseboards if there is a gap after removal of previous floor coverings. If you want to maintain a seamless transition between rooms, thinner overlays can go down to a featheredge, so they won't create a noticeable height difference.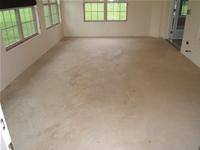 Hawkeye Custom Concrete (Before)
Overlays provide unlimited design flexibility and can be patterned or colored to mimic other flooring materials.
Some overlays can be stamped and textured to mimic brick, slate, tile, natural stone and other materials. Color options include broadcast pigments, colored liquid or powdered releases, stains, dyes and tinted sealers.
You can create a "faux tile" floor with no restrictions in tile size. The installer can take the room dimensions and other design considerations into account and enlarge or shrink the tile to suit the space.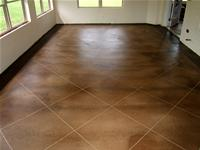 Hawkeye Custom Concrete (After)
Spray-applied overlays are ideal for use with paper or plastic stencils. They are available precolored or can be integrally colored during mixing. You can also apply stains, dyes or tints for accent color.
Read more about concrete overlays at ConcreteNetwork.com.