Radiant Floor Heating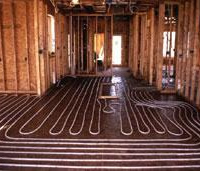 Uponor
What Is Radiant Heat?
Before a concrete slab is poured, tubes or electric heating elements are placed and attached to wire mesh. Concrete is then poured over the tubing to within two inches of the concrete surface (depending upon the design and installation technique. Read more about types of radiant floor heating systems from the Radiant Panel Association.
Get the Radiant Flooring Guide from Radiant Panel Association.
Benefits of Radiant Heating (from ConcreteNetwork.com)
Lower Energy Costs
Lower Heating Costs
Comfort
Healthy Air
Silence
Read more about the benefits of radiant floor heating on ConcreteNetwork.com.