Are Concrete Floors Hard on the Feet?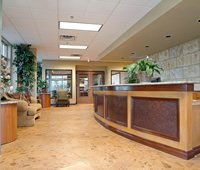 Richardson's Concrete Effects
The reality:
Yes, concrete is a hard material and won't cushion or "give" under bare feet.
The pluses:
Concrete's hardness also contributes to its durability and abrasion resistance. In a commercial or warehouse setting, hard is good. You need a hard surface that can stand up to forklift traffic and heavy foot traffic.
For a residential floor, you can help cushion concrete with area rugs (which are easier to clean than wall-to-wall carpet).
While concrete may be hard, it's not abrasive to the feet, especially if it's polished or has a smooth finish.