Stained Concrete Floors
COLORING CONCRETE IN NATURAL TONES AND VIBRANT HUES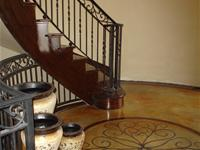 Image-N-Concrete Designs
Chemical stains can be applied to new or old and plain or colored concrete surfaces, in both residential and commercial settings. They are popular in kitchens, family rooms, retail stores, restaurants, sports stadiums, and even for garage and basement floors.
Because stains accent the natural characteristics of concrete, they result in an organic look with a rich patina. They produce warm, variegated coloring effects that blend particularly well with Old World or Tuscan-style design schemes.
Using concrete dyes along with chemical stains also allows you to get into a broader range of colors, such as yellows, reds, and blues, expanding your color palette. Dyes can also be used to fix problem areas where chemical stains haven't taken.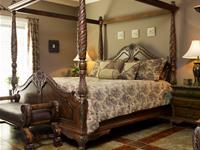 Kemiko Concrete Stain
Many different tools and supplies can be used to create graphics and other effects that personalize your floors. You can apply accents of color using eyedroppers, torn paper, torn edges of rags, feathers, and sea sponges. Additional accents can be created by "blowing" the stain across the surface, using compressed air forced through a fine tip.
Because of the versatility of stains and dyes, any look you can imagine is possible. They offer the high-end look of flooring materials such as marble or granite, with no limitations in color or finish effects.
There are very few drawbacks to using concrete stains and dyes. Acid stains come in a limited color palette (generally earth tones) and are unpredictable in their coloring effects. You can expect wide color variations. Stains and dyes also have some transparency and aren't entirely opaque. They will not hide or mask flaws in existing concrete.
Read more about concrete stains at ConcreteNetwork.com.