The Importance of Sealing a Concrete Floor
Think of a concrete floor sealer as a protective layer that will improve its appearance and durability. Much like applying a stain guard to a new sofa or waxing your prized automobile, sealing a concrete floor is important for protecting your investment. Stain protection is the main reason for sealing concrete floors, especially in areas of your home or business where food and drink will be consumed. Pets may also casue damage to a concrete floor that can be prevented with a properly applied sealer. New concrete floors should be sealed upon completion, while existing concrete floors should be sealed every 1-2 years based on wear-and-tear.
Sealing concrete will lock down the colors and provide a high gloss. Depending on your desired sheen, floor sealers are available in a variety of gloss levels, ranging from matte to high gloss. Additionally, specialty sealers tinted for color enhancement can be used. Finally, if your concrete floors are in an area of your home where moisture is common (kitchen, bathroom, entryway) a sealer with a slip-resistant additive is a good idea.
Typically, film-forming sealers, which include acrylics, polyurethanes and epoxies, are used on interior concrete. Acrylics are softer, require more maintenance and may show scuffs and shoe marks. Regular waxing may help prevent these issues. When selecting a sealer for your floor, consider the decorative treatment (staining, overlay, polishing, etc.) and check with the manufacturer for compatibility to avoid blistering, bubbling or bleeding. Also consider whether the sealer is safe to use indoors. Some sealers release harmful fumes and contain volatile VOCs.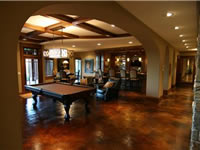 Concrete Arts in Hudson, WI
Sealing a Microtopping

The owners of this game room were looking for a worn, rustic floor finish. Acid stains and dyes were applied to a microtopping that had been troweled to leave chatter marks and ridges. The custom concrete floors were sealed with a water-based acrylic and six coats of matte-finish floor wax.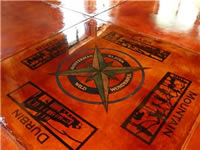 The Decorative Concrete Institute in Temple, GA
High Gloss Sealer

These concrete floors were colored with a combination of acid stains and dyes. The custom graphic was stenciled onto the floor using tinted skim coats. The colors were locked down with a high gloss epoxy sealer.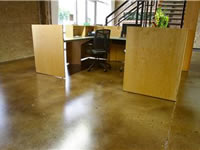 Westcoat in San Diego, CA
Environmentally-Friendly Sealer

Grinding and staining brought new life to these existing concrete office floors. After staining, a water-based epoxy sealer was applied. This sealer was used because of its environmentally-friendly nature. Each year a coat of wax is applied to extend the life and beauty of the finish.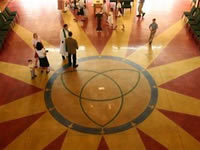 Dimensions Concrete Design in Rockmart, GA
Sealing a Polished Floor

This church floor was polished and dyed to represent the congregation's beliefs. After the intricate design was created, the floor was finished with a penetrating sealer for polished concrete. The only maintenance required is wet mopping and periodic resealing.