Los Angeles Concrete Floors
Discover your options for concrete flooring in L.A.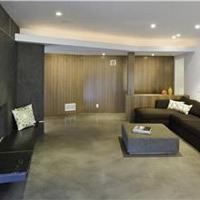 Los-Angeles based architect, Daniel Monti often specifies concrete floors for his clients' homes.
Throughout Los Angeles, concrete floors have become commonplace in trendy restaurants, bars and coffee shops, as well as big box stores and large sporting facilities. Concrete is an attractive flooring material because of its limitless customization options, its durability and ease of maintenance. Many L.A. homeowners have also taken note and opted for concrete flooring in their homes.
Find a Los Angeles Concrete Floor Contractor:
Los Angeles Architects Specify Concrete Floors
Daniel Monti, an architect from Modal Design in Los Angeles frequently suggests concrete floors to his clients. Monti appreciates concrete's ability to seamlessly blend interior and exterior spaces. "In Southern California, indoor/outdoor living is desired by many and concrete can be used in both settings to create a cohesive feel," he explains. When it comes to interior flooring, Monti prefers polished concrete with slightly exposed aggregate, which offers a beautiful visual texture within a smooth finish. For colors, he typically suggests warm earthy tones that will help the space feel comfortable and bright.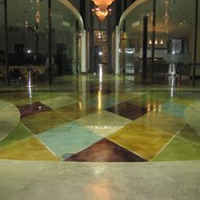 The floor at the 7 For All Mankind office, installed by Demmert & Associates in Glendale, CA.
Concrete is a material that can conform to any style with impressive results. With virtually unlimited design options, it is no wonder an architect would recommend concrete floors for stylish denim brand 7 For All Mankind's office in Rancho Dominguez. An argyle-like pattern was created on their floors by using sawcuts and various dilutions of concrete stains. The Sunset Restaurant in Malibu, well-known for its views, also opted for stained concrete floors in their banquet room.
Making the Switch to Concrete Flooring
If you're not happy with your current flooring, concrete is a great alternative - it has a high end look, holds up well and is easy to clean. Many homeowners that make the switch from laminate, tile or wood are very happy with the results. Los Angeles is always on the cutting edge of contemporary design trends and has embraced concrete flooring for public spaces as well as residences. In residential settings, concrete floors are most often used in the kitchen, dining room and bathrooms. Concrete can be polished to a high sheen for modern homes or stained to look aged and worn for homes with old-world character.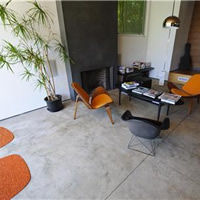 Many homes in Venice, CA have concrete floors because they go well with the modern style.
Concrete floors can also help your home be more eco-friendly. Going green is very popular in Los Angeles, especially for new construction or remodels. Many LEED-certified residences in the area have concrete floors because of their thermal properties and artisan quality. A highly efficient radiant heating system can be installed in concrete floors which will cut back on energy usage. Additionally, recycled materials can be used in the concrete mix itself and soy-based products can be used to add color.